Gender Fusion: A Vent To Men's Fashion
Lately, the notions of femininity and masculinity are being questioned and deconstructed: neutral gender, gender blur, gender fluid. Slash generation doesn't like to be labeled. Just as it is possible to be a student/Tumblr celebrity/actor/resident of Paris, London, New York, it is also possible to be fluid regarding gender and sexuality.
Recently, a research pointed out that 1 in 2 people between 18 and 24 years old do not consider themselves heterossexual or homossexual, but somewhere inbetween these concepts. Gender and sexuality exist in a specter, a fact that is being progressively understood by people in general.
Fashion is one of the most important means of identity expression, so it is also sensible to the gender blur atmosphere. Up to now, most gender related fashion experiments happened to women clothing. For decades now men's wardrobe lends pieces to the girls. Women have a wide variety of possibilities for expressing themselves with clothing, while men, following common sense, not so much.
Throughout history, few were the examples of audacity in men's fashion, but they surely were strong and subversive. In the 70's, David Bowie rocking the stage with his androgynous character, wearing high heels, sequins and skirts. Another good example is Jean Paul Gaultier. His first men's collection, in 1983, was called "L'Homme Objet" ("objectified man"). This is significant because, at the time, the image of a passive man was transgressive – and it may well still be. In 1984 he brought the skirt to menswear in his collection "Et Dieu Créa l'Homme". People got offended to the point of leaving the show.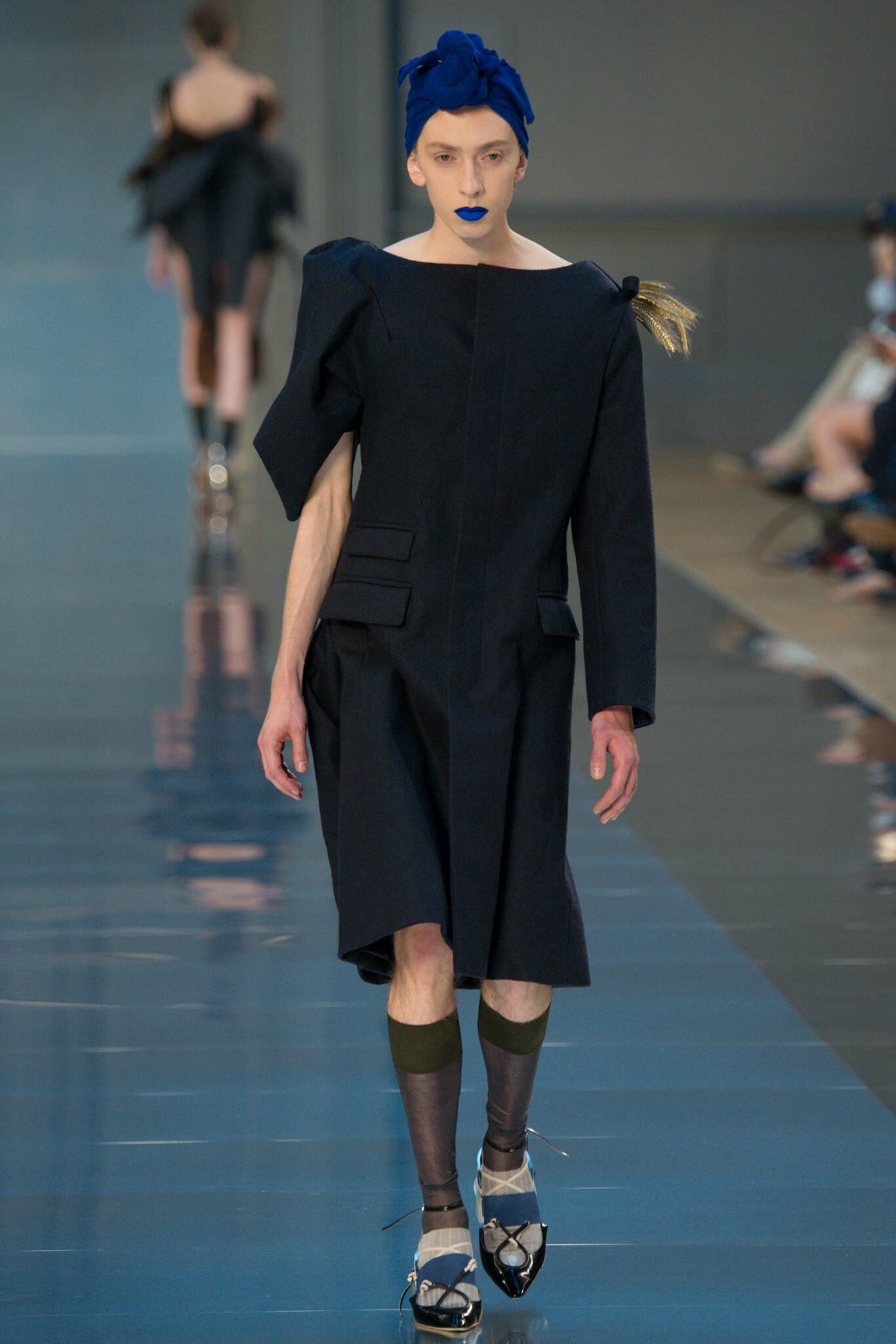 If we stop and think, women wearing pants was scandalous in the past. Outside of the fashion world today, it is still controversial a man wearing dresses and skirts. Stylists Rad Hourani, Rick Owens and Martin Margiela were some of the few who perturbed masculine fashion conventions and talked about Free Gender fashion.
This fact is about to change in global scale – at least it's what it seems, seeing the latest menswear fashion shows. From a few seasons to now, stylists are questioning identity, archetypes and the position of the post-modern man in this scenario, in the hope of burying the old and outdated gender concept.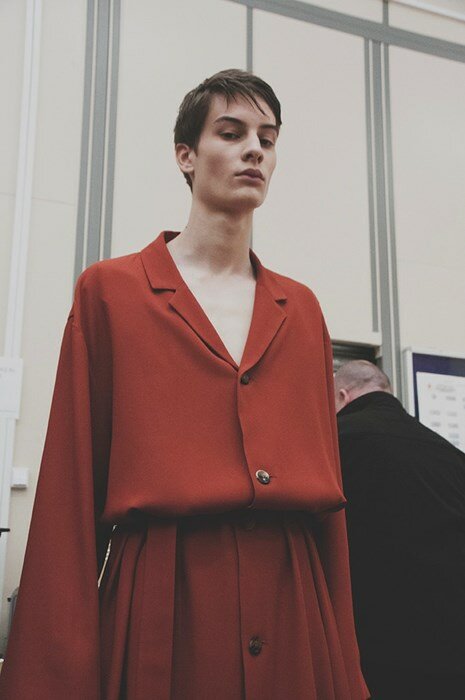 J.W. Anderson is known as one of the best stylists alive, proven by each new collection he brings, with unexpected silhouettes that redefine the concept of masculinity. In June 2014, Craig Green caused a commotion with first solo runway show. The experimental shapes and volumes he uses bring a more conceptual dimension to menswear. Emotion and concept are now being injected into men's fashion universe, breaking established molds and opening possibilities, far away from handsewn suits and neutral colors.
Menswear liberation can also be associated to a new breath of sportswear. By experimenting with sportswear, designers are including creativity in an aesthetic that prides for comfort.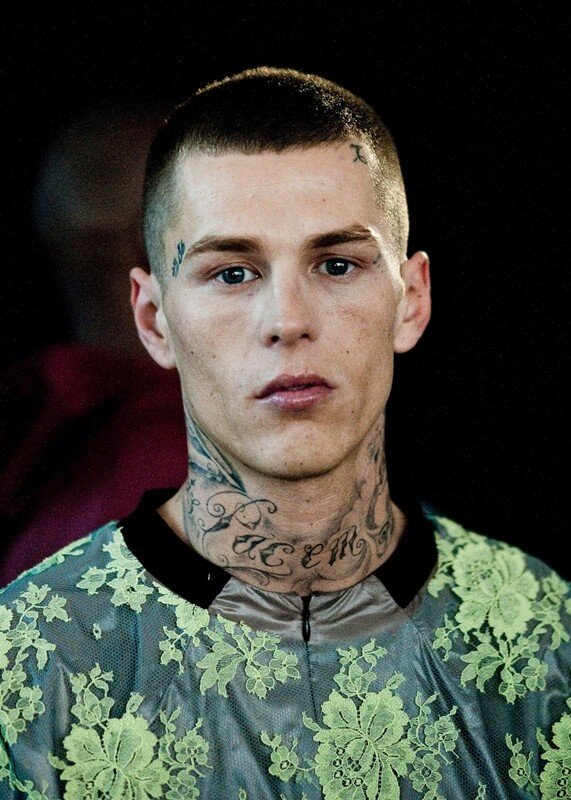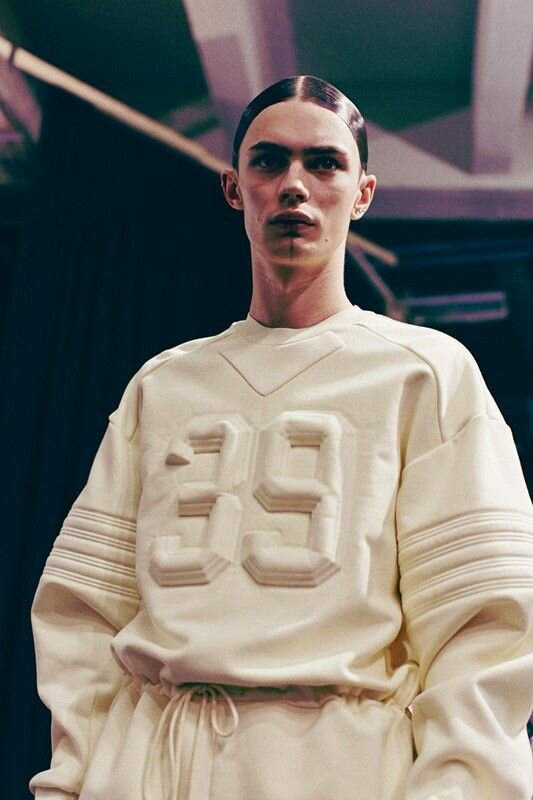 Music scene pronunciations
Music, always connected to fashion, is also a vector for change. In March, norwegian singer Susanne Sundfør required her country's premiations to suppress the categories "best male artist" and "best female artist". It worked, now there is only one category.
Musician Young Thug, in a recent Dazed & Confused cover, wore a Gucci lace dress. It was not the first time a rapper wore a dress: ASAP Rocky used an Ann Demeulemeester "long T-shirt", and highlight 1737 "Kanye West"] performed once with a Givenchy kilt.
Micky Blanco is another strong example of gender blur and fashion freedom in music. We are talking about a "drag rapper", who doesn't care to be called as a "he" or a "she", and wears man and women clothing.
Masculine and feminine are no longer absolutes
The fact that today men feel freer in terms of style can be connected to feminism renovation. The cause is becoming quite popular among celebrities and the media, and a lot of initiatives are popping up, like women showing their body hair with no shame, or the campaign Free The Nipple. As women break the shackles of patriarchy and feminine aesthetic, men feel free to do the same.
In a speech for the campaign "He for She", actress Emma Watson said "gender equality regards man too." Although not all feminists approve that a campaign aimed for women be so focused on men, it is true that they, too, suffer the pressure of being what they are not due to societal expectations. Because of that, some activists think efficient sexism fight should include men and women fighting side by side.
In fashion, Acne Studio adopted this flag, coming up with products like a sweater saying "radical feminist", or headbands that scream "gender equality". Brand's creative director Jonny Johannson says, for this collection, he took inspiration in swedish political party Feminist Initiatives.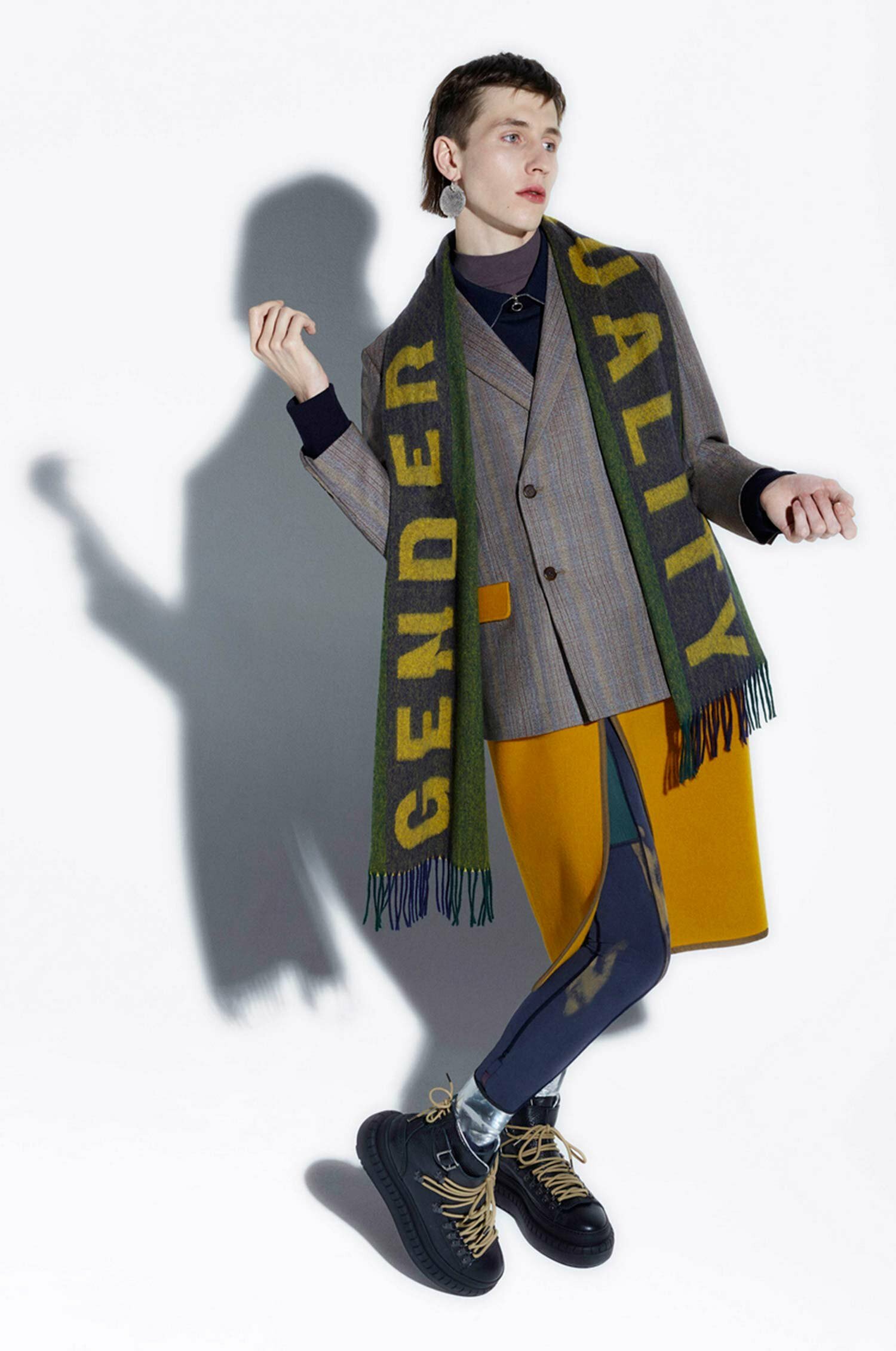 Nowadays, men's fashion is remodeling itself into fashion without boundaries: not masculine, nor feminine. In fact, categorizing the world in two factions does not make much sense anymore. Sexist marketing and advertising are being challenged, now that people are building their identities in a much freer way than it ever was.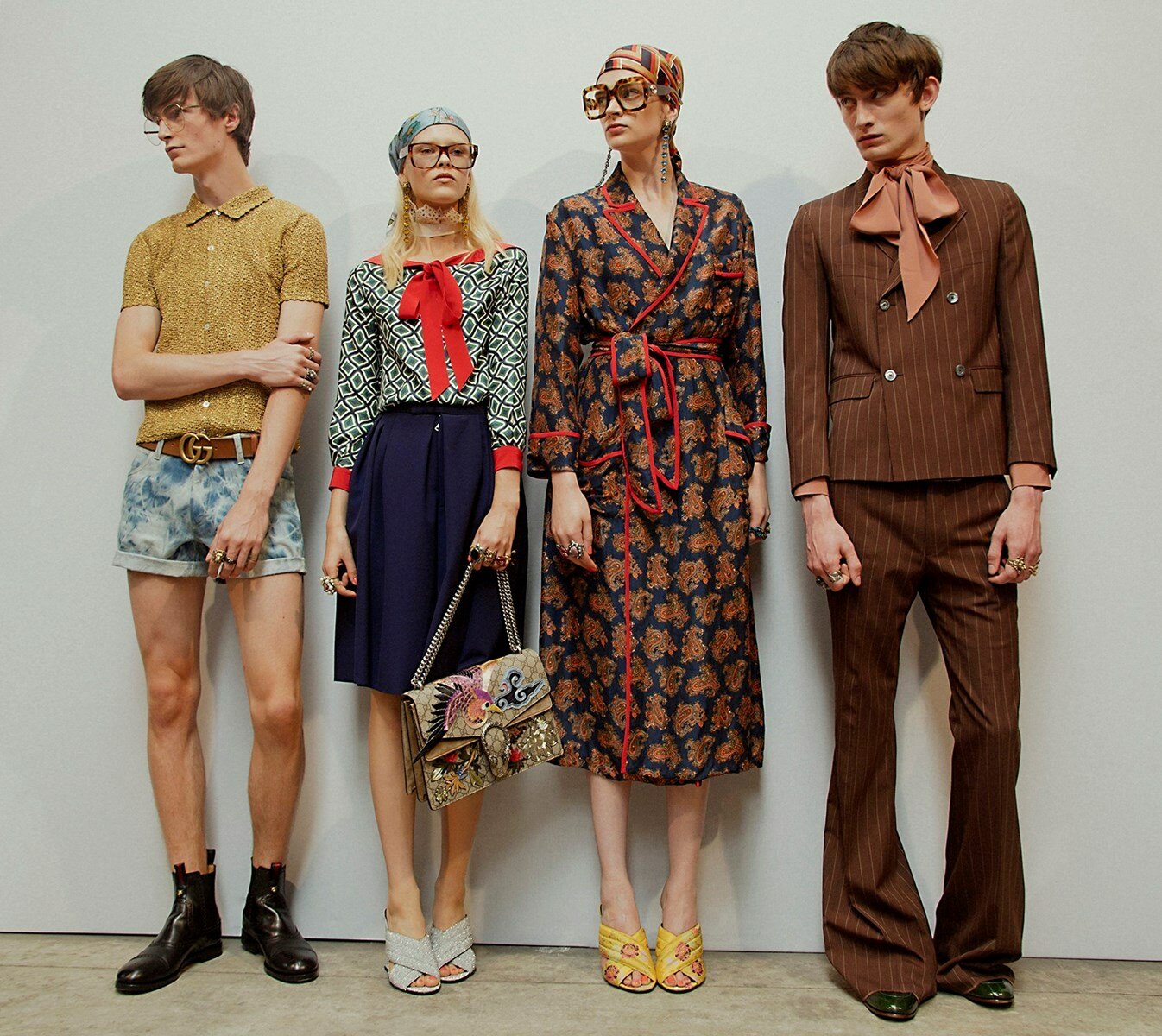 This diversity in the recent fashion scene is also strengthened by the LGBT identity awakening. A young set of influent brands is declaring themselves agender, interested in dressing people and singular identities, not "men" or "women" bodies. Seeing trans models like Hari Nef, Juliana Huxtable, and Isis King gain popularity, and the promotion of more diverse castings in campaigns and fashion shows, beauty patterns are really being redefined.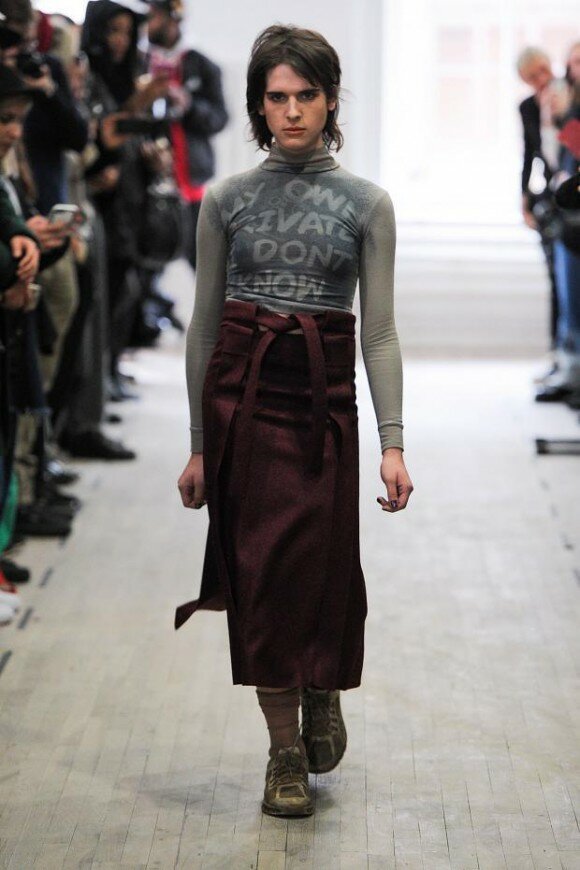 As people attune themselves, they get more sensible and confident. A different fashion culture is being built around communities that encourage diversity: transitioning clothing to a redefining generation. This new fashion is about ideas and philosophy, made for a new customer: one that doesn't want to mindlessly buy, but to do it aligned with a movement, a higher cause.